Contribute to Manuscript Collections
The Hanna Holborn Gray Special Collections Research Center collects original manuscripts in all formats, including personal papers, organizational records, and other historical materials.  These collections support the research and teaching programs of the University of Chicago and the interests of scholars and researchers who consult the collections. Special Collections welcomes inquiries regarding donations to strengthen and enhance the manuscript holdings.
Areas of Interest for the Manuscript Collections
Early history of Kentucky and the Ohio River valley
Abraham Lincoln, Stephen A. Douglas, and the Civil War era
American civil rights in the 20th century
Poetry magazine and modern poetry
Post-World War II atomic scientists political organizations
Cold War intellectual politics and world constitutionalism
Native American education and community organization
Modern commercial printing
Chicago labor and social reform
Chicago medical history
Chicago jazz
History of Chicago's Hyde Park, Kenwood, and Woodlawn neighborhoods
Materials of Interest
Letters and memoranda
Diaries, journals, and notes
Legal documents
Minutes, ledgers, and other administrative records
Drafts and manuscripts of essays and writings
Speeches, lectures, and addresses
Photographs
Albums and scrapbooks
Drawings, prints, posters, and maps
Brochures, pamphlets, and ephemeral publications
Film, audio and video recordings
Memorabilia and artifacts
Arranging a Gift of Manuscripts or Historical Materials
Please contact the Hanna Holborn Gray Special Collections Research Center to discuss a possible donation of manuscripts or historical materials.
Contact Information:
Hanna Holborn Gray Special Collections Research Center
University of Chicago Library
Chicago, Illinois 60637
universityarchives@lib.uchicago.edu
773-702-8705
Featured Collection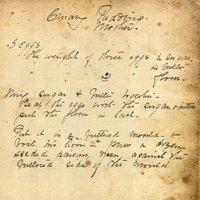 View all collections