John Jay
John Jay (1745-1829) served as the Chief Justice of the United States Supreme Court from 1789 to 1795.
Portrait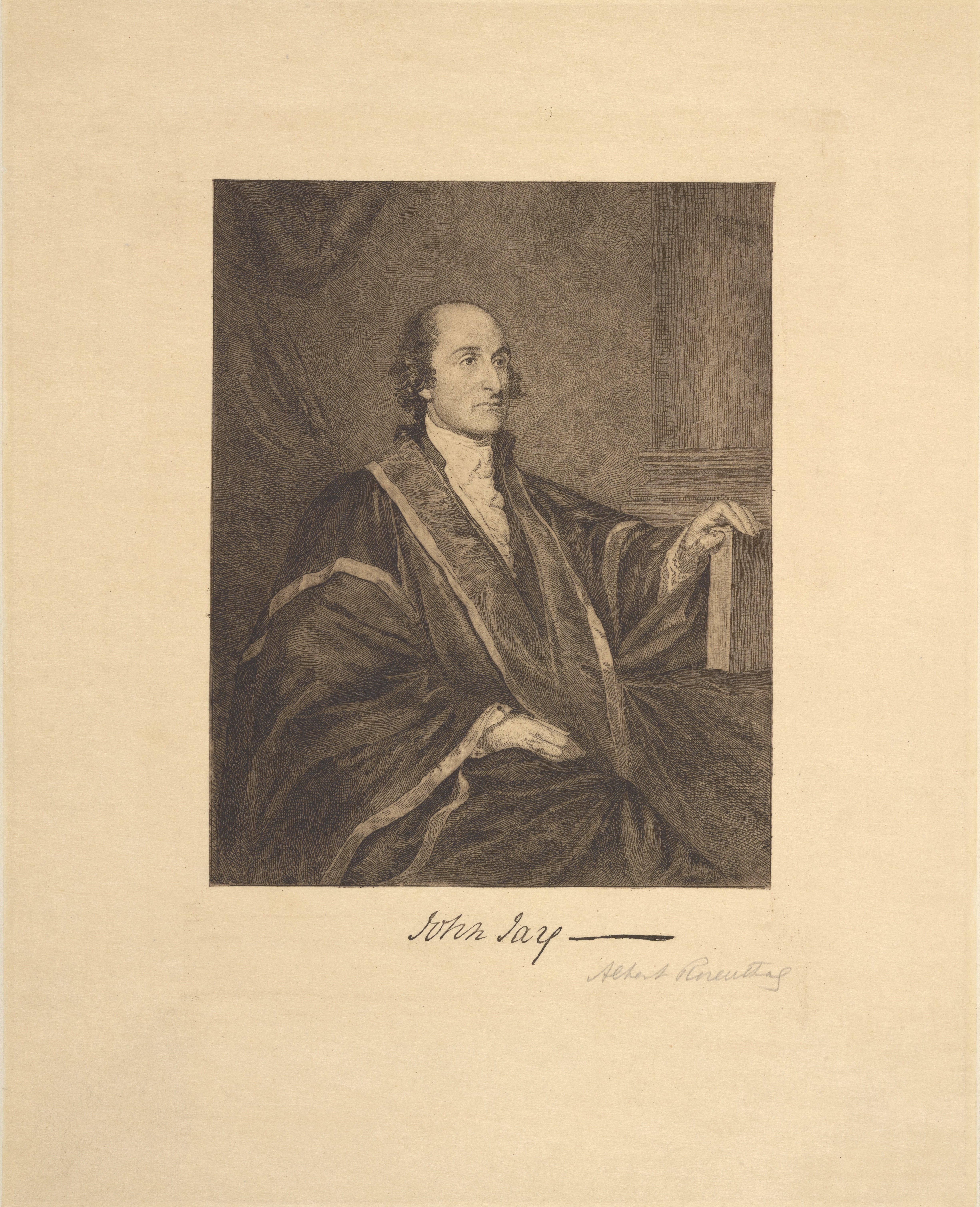 Signature

John Jay Signature Detail
The Document
John Jay to Gouverneur Morris, 10 June 1783, Front
Transcription of the Letter:
Passy 10 June 1783
Dear Morris
Doct. Bancroft will tell you how I do, and twenty other things that you may incline to know - let me introduce him to you, and tell you that ever since my arrival here, I have experienced from him a series of kind attentions. He has been our friend and physician, and in both capacities has done us good. Receive him therefore as a gentleman to whom I am under obligation, and to whose welfare and happiness it will always give me particular pleasure to conduce -
Adieu
Yours sincerely
John Jay
The Hon'ble Gouv. Morris Esq

About this Document
About The Treaty of Paris
At the time he wrote this letter in June of 1783, Jay was in France negotiating the Treaty of Paris, the agreement that formally ended the Revolutionary War (and was signed on September 3, 1783). While there, he lived in Passy, the same neighborhood where Benjamin Franklin lived while in Paris.
For more about the Treaty of Paris, see:
About Gouverneur Morris
Gouverneur Morris was serving as the Assistant Superintendent of Finance for the United States under the Articles of Confederation when he received this letter from Jay. He had previously served as a member of the Continental Congress and signer of the Articles of Confederation; he later went on to be a delegate to the Federal Constitutional Convention, a signer of the Constitution, Minister Plenipotentiary to France, and a U.S. Senator.
For more about Gouverneur Morris, see:
About Edward Bancroft
Dr. Edward Bancroft was born in Massachusetts but built his career and reputation in London. In 1777 he moved to Paris where he worked with Benjamin Franklin as the secretary to the American Commission. During the Revolutionary War he served as a spy, passing British intelligence to Franklin and his associates. But after after his death (when records of payment were unsealed in British archives) it was discovered that he had actually been a double agent, passing American intelligence to the British government too.
For more about Edward Bancroft, see:
Thomas J. Schaeper, Edward Bancroft: Scientist, Author, Spy (New Haven: Yale University Press, 2011).
Kenneth A. Daigler, Spies, Patriots, and Traitors: American Intelligence in the Revolutionary War (Washington, DC: Georgetown University Press, 2014).
Benjamin Franklin, Letters from France: The Private Diplomatic Correspondence of Benjamin Franklin, 1776-1785, ed. Brett F. Woods (New York: Algora Publishing, 2006).
---
About John Jay
John Jay was a delegate to the Continental Congress from the State of New York and served as President of the Second Continental Congress. Jay played a prominent role in the negotiation of the Treaty of Paris in 1782-1783 to end the Revolutionary War between Britain and the United States. Like Alexander Hamilton and James Madison, he was a supporter of a strong federal government and contributed five articles to The Federalist Papers, which he wrote while serving as the Secretary of Foreign Affairs under the Articles of Confederation.
John Jay served as the first Chief Justice of the United States Supreme Court. He was nominated by President George Washington and confirmed on September 26, 1789. While Chief Justice, Jay also negotiated the Jay Treaty in 1794-1795 to maintain peace with Great Britain after the war. He resigned from the Court in 1795 to serve as the second Governor of the State of New York. President John Adams nominated Jay to be Chief Justice again in 1800, but Jay declined.
For more about The Federalist Papers, see:
Alexander Hamilton, James Madison, John Jay, The Federalist Papers, ed. Ian Shapiro (New Haven: Yale University Press, 2009).
"The Federalist Papers," Resources, Congress.gov, accessed June 24, 2019, https://www.congress.gov/resources/display/content/The+Federalist+Papers.
For more about the Jay Treaty, see:
For more about John Jay's life and career, see: