William Strong
William Strong (1808-1895) served as an Associate Justice of the United States Supreme Court from 1870 to 1880.
Portrait
Signature
William Strong Signature Detail
The Document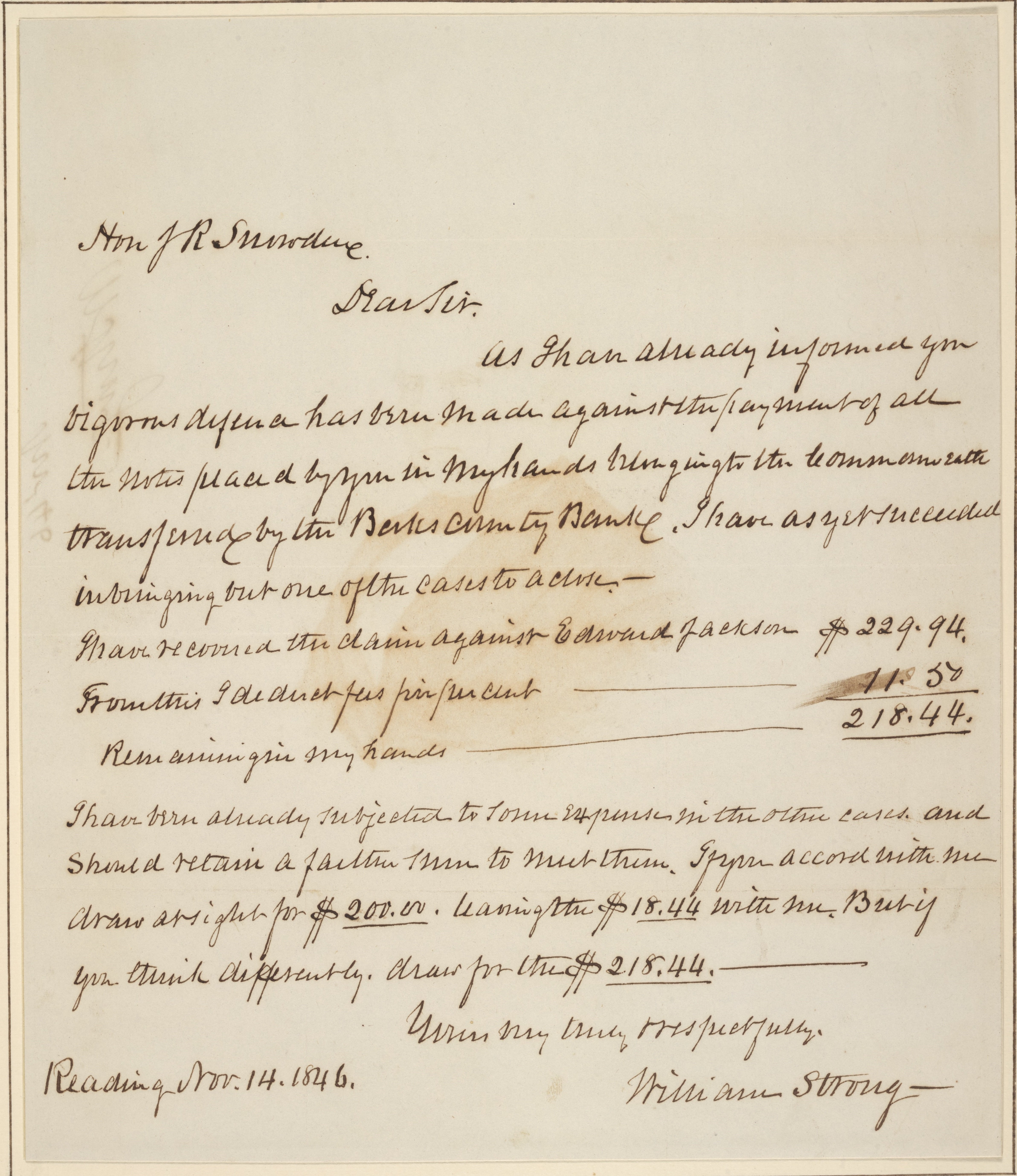 William Strong to J. R. Snowden, 14 November 1846
Transcription of the Letter:
Hon. J.R. Snowden
Dear Sir,
As I have already informed you vigorous defense has been made against the payment of all the notes placed by you in my hands belonging to the Commonwealth transferred by the Berks County Bank. I have as yet succeeded in bringing but one of the cases to a close.
I have recovered the claims against Edward Jackson ____$229.94.
From this I deduct fees five percent _________________ $11.50
Remaining in my hands _________________________ $218.44.
I have been already subjected to some expenses in the other cases, and should retain a [farther sum] to meet them. If you accord with me draw [outright] for $200.00, leaving the $18.44 with me. But if you think differently, draw for the $218.44.
Yours very truly & respectfully,
William Strong
Reading Nov. 14, 1846
About this Document
About James Ross Snowden
At the time that he received this letter, James Ross Snowden was serving as the State Treasurer of Pennsylvania. He had previously served several terms in the Pennsylvania House of Representatives, and served as the House Speaker. President James Polk appointed Snowden Treasurer of the United States Mint in 1847, a position he held until 1850. And then in 1853, President Franklin Pierce appointed him the Director of the United States Mint. Snowden would go on to write many books about numismatics, the study and collection of currency.
For more about James Ross Snowden, see:
---
About William Strong
At the time that he sent this letter, William Strong was an attorney in private practice in Reading, Pennsylvania. About a month before this letter was sent, Strong was elected to the U.S. House of Representatives, a position he would hold from 1847 to 1851. In 1857 he was elected to serve as a justice on the Supreme Court of Pennsylvania, but returned to private practice again in 1868 until his nomination to the U.S. Supreme Court.
William Strong was nominated by President Ulysses S. Grant to serve as an Associate Justice on the U.S. Supreme Court in 1870. Strong served on the Court until his retirement in 1880.
For more about William Strong's life and career, see:
Follow this link to search the University of Chicago Library catalog for the subject heading "Strong, William, 1808-1895".
"Strong, William," Federal Judicial Center, accessed July 18, 2019, https://www.fjc.gov/history/judges/strong-william.

Lists background information on his professional career as well as a bibliography.

"Strong, William (1808-1895)," Guide to Research Collections, Biographical Directory of the United States Congress, accessed July 18, 2019, http://bioguide.congress.gov/scripts/guidedisplay.pl?index=S001021.